How our program works
Become an affiliate of Monster Backlinks and earn 20% of all sales for the life of the customer!
Duration:
Forever
Commission:
20%
of every sale, for life.
Limitations: None
For Life?
If you refer a member to us and that member makes a purchase today, tomorrow or 3 years from now you will get paid for it. You will get paid for EVERY Purchase they make, forever.
How do I Become an Affiliate?
Just
sign-up
. Every member has an affiliate link. It's that simple.
Custom Affiliate Amount
All services offer 20% affiliate earnings per order but some sellers offer more. This is a custom affiliate amount and anything over 20% comes directly out of the sellers earnings. You can view the affiliate amount in the left hand side of any service (click "Promote this service") or by searching via the API.
Build your own
Our
API
allows you to add links to your site or build an entire store (like those above).
How to get Conversions
We find the best conversion rate from
forums
. Place your affiliate link in your signature or respond to [WTB] threads with affiliate links directly to a related service.
Another great method is Twitter! Respond to those talking about being a webmaster, google or SEO with your affiliate link.
Your own website is probably one of the best sources for traffic and directing new affiliates through your affiliate link. Add links where they can be seen, promote your own services with your affiliate link embeded in the URL. You will not get paid affiliate commission for your own services, but if they purchase other services that you do not own, you'll earn 20% of every order. :)
Other Social Media sites.
What are my Affiliate Links?
You can find your affiliate links here:
https://www.monsterbacklinks.com/balance?tab=affiliate
You can find your affiliate banner ads here:
https://www.monsterbacklinks.com/promotional
You should Know...
You
will not
earn 20% from any official Monster Backlinks service purchased.
How to Bring Home the Bacon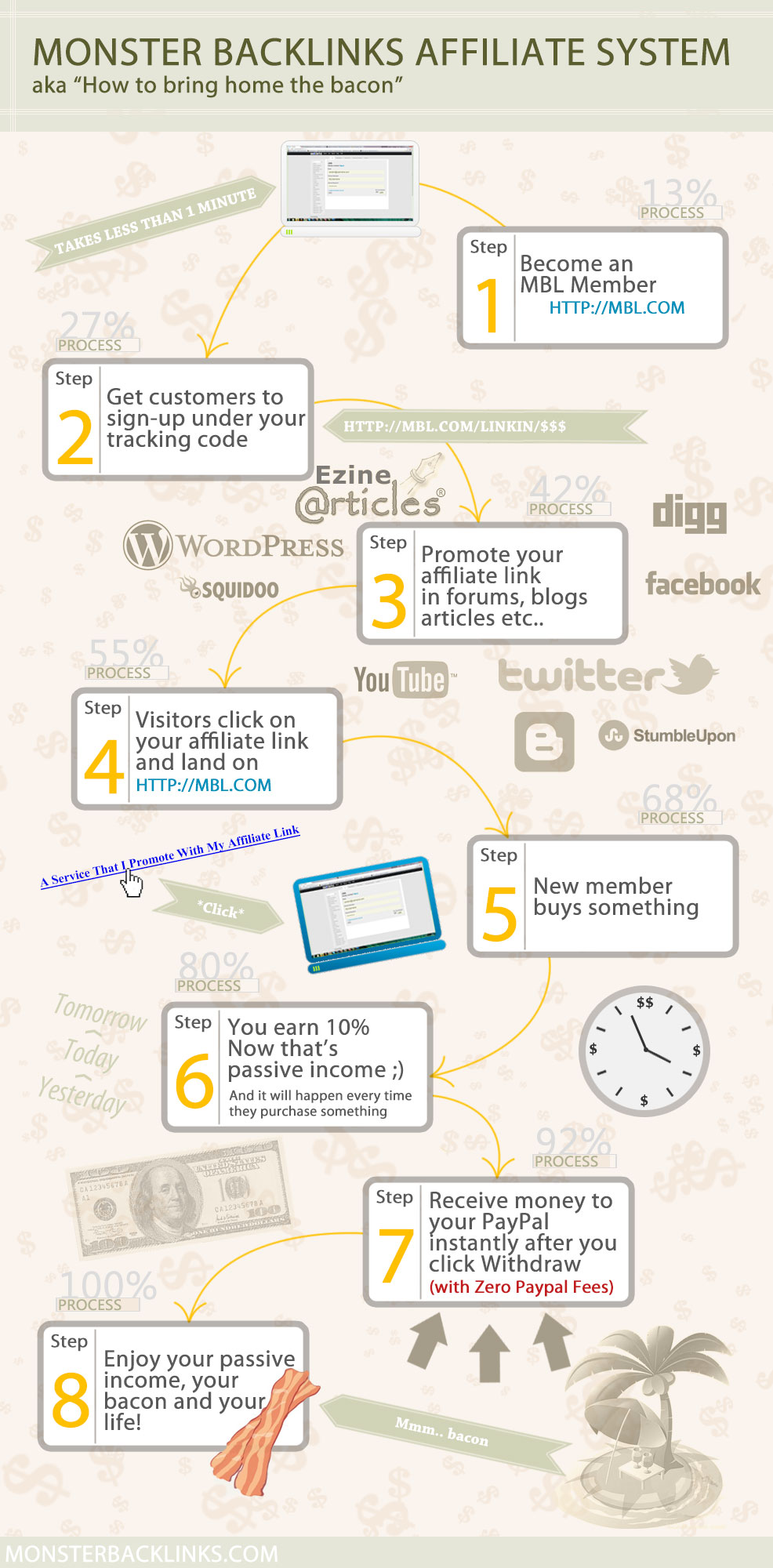 It's easy to become an Monster Backlinks affiliate - it takes only a few moments to sign up, and there's no programming required. If you are already a member, you are already an affiliate. Our affiliate program pays you when your visitors buy any Listing....
For Life!
The success of Monster Backlinks's affiliate program is a result of our generous commissions:
20% commission on all sales
Earnings for life! If you refer a member, you earn from their purchases forever.
Easy to use - just slap a link on your site or as a forum signature and start earning passive income!
Already a member? Then you are already an affiliate